Fox Film Corporation Founding
June 1, 1915

William Fox, a Hungarian immigrant, formed Fox Film Corporation by merging Greater NY Film Rental and Fox Office Attractions.
January 1, 1920

Film production conducted on two Fox Film's Western Avenue film lots – the 8 ½-acre "Comedy lot" on the east side of Sunset Boulevard and the 5-acre "Dramatic lot."
January 6, 1924

William Fox bought 99 acres of land located between Santa Monica Boulevard and Pico Boulevard from the Janss Company.
November 6, 1925
William Fox bought the rights to the Movietone sound system, which became Fox Movietone.
November 6, 1928
Fox Movietone City was dedicated to producing only sound films. Fox built the first sound stages converted from silent picture production.
November 6, 1932
Twentieth Century Pictures is created by Darryl F. Zanuck, Joseph Schenck, William Goetz and Raymond Griffith to distribute films.
November 6, 1935
Twentieth Century Pictures merged to create The Twentieth Century- Fox Film Corporation (TCFFC).
November 6, 1936
TCFFC purchases a 97.17-acre portion of a Golf Course in West Los Angeles at the border of what is now Beverly Hills. The property extended from Pico Boulevard to the future Olympic Boulevard, and is now the eastern half of Century City.
November 6, 1942
During a shakeup in management, Wendell L. Willkie (the 1940 Republican nominee for President) succeeded Joseph Schenck as Chairman of Fox Film.
November 6, 1946
TCFFC purchases 89.97 acres, the remainder of the Golf Course and the balance of the eastern half of Century City (running from Olympic Boulevard north to Santa Monica Boulevard. This addition increased the total area of Fox Movietone City to 286.31 acres.
November 6, 1947
Fox agreed to sell 6.125 acres to the city of Beverly Hills to build Beverly Hills High School and another 15.5 acres for streets.
November 6, 1952
The Robe was the first film to be distributed in widescreen Cinemascope.
November 6, 1954
TCF begins making television series. The first is My Friend Flicka based on the 1943 Fox film.
November 6, 1958
Cleopatra, starring Elizabeth Taylor, Richard Burton, Rex Harrison and Roddy McDowell began a well-publicized, troubled production. It became at the time the most expensive movie ever made.
November 6, 1959
With the studio finances in trouble, Fox entertained an offer to sell to William Zekendorf, but negotiations broke down.
November 6, 1961
Aluminum manufacturer Alcoa Corporation purchased the 260-acre Fox Film lot and leased back 75.7 acres to Fox for film production.
November 8, 1961
Richard Zanuck, President of TCFFC, rushed completion of Cleopatra then shut down the studio to reorganize following severe financial losses.
November 10, 1961
April 17, 1961 The Aluminum Company of America entered in a joint venture to purchase and develop the 176-acre property. The plan was to create a "city within a city."
November 11, 1961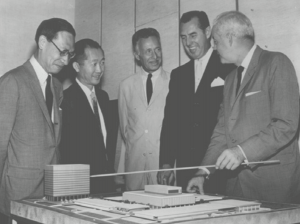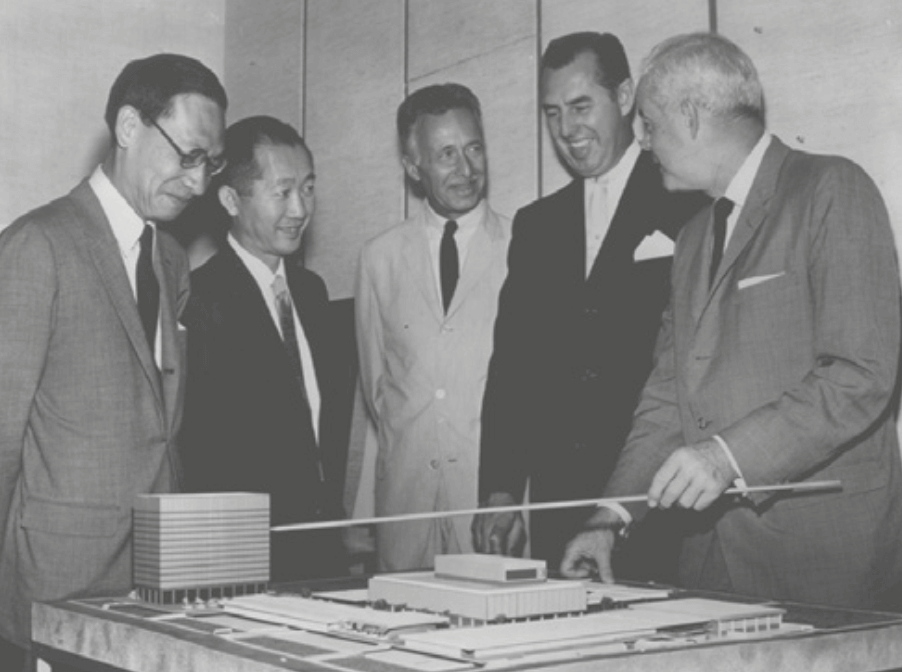 Architectural Meeting, (L-R) I.M. Pei, Architect, Century Tower Apts.; Minoru Yamasaki, Architect, Century Plaza Hotel; Pietro Belluschi, Dean of School of Architecture, M.I.T.; Frederick J. Gebers, Executive Director, Century City; and Welton Becket, Century City Master Planner.
November 6, 1962
Movietone Newsreel ceased production.
November 6, 1963
Fox Studios reopened in the Spring of 1963 and production resumed.
November 10, 1963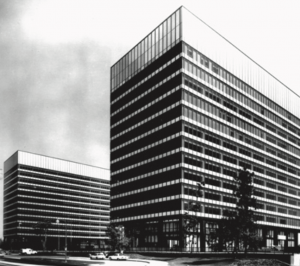 The first office buildings completed in Century City, designed by Welton Becket, Gateway West in 1963 (right) and Gateway East in 1964, form the northern entrance of Avenue of the Stars.
November 10, 1964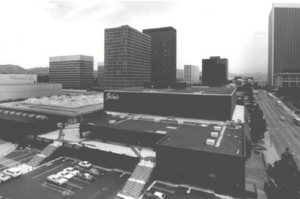 Century Square (now Westfield Century City) opened in 1964 as an innovative 15-acre, open-air shopping center with 30 acres of underground parking for 2,700 automobiles.
November 6, 1965
Fox Studios reopened in the Spring of 1963 and production resumed.
November 10, 1966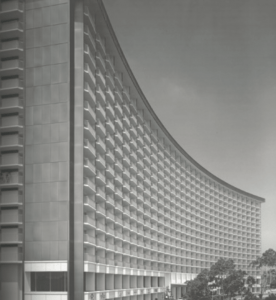 June 1, 1966 – Century Plaza Hotel, designed by Minoru Yamasaki and developed by Century City Inc., a subsidiary of Alcoa, opened its doors. A double room cost $30 a night at the 750-room hotel. Prince Philip was the first of many visitors.
November 6, 1968
The original Planet of the Apes, starring Charleston Heston and Roddy McDowell, was filmed in Century City and debuted to critical and audience rave reviews. It was the beginning of a 5-movie franchise and TV series, including a 2001 reboot.
November 7, 1968
Construction of the Hello Dolly set began, which changed the face of the lot forever.
November 10, 1969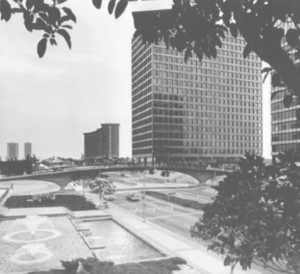 An advertisement in the Wall Street Journal, dated July 18, 1969 proclaims Century City as a "Modern Acropolis… An environment created today for business of tomorrow."
November 10, 1972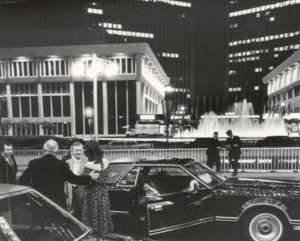 ABC Entertainment Center opened. Cabaret premiered at the ABC Entertainment Center's movieplex. That same year, Follies debuted at the Shubert Theatre.
November 6, 1973
Twentieth Century Fox Film repurchased 75.7 acres of film lot from Alcoa.
November 10, 1974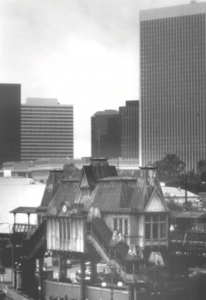 Circa 1974 View of the newly built Century Plaza Towers from a section of the Hello Dolly! set on the back lot of Fox Studios.
November 6, 1975

Between 1975 and 1980, after years of successful operations, Fox acquired TV stations, and among other companies, Coca-Cola Bottling, Aspen Skiing Corp., Magnetic Video Corp. and Pebble Beach Corp.
November 10, 1976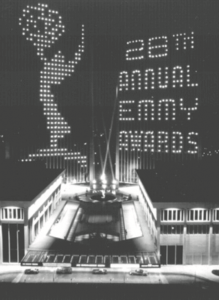 May 17, 1976 This helicopter shot freeze- frame photo was taken on the night of the 28th Annual Emmy Awards at the Shubert Theatre. A monumental effort was required to create this stunning opening for the live show.
November 6, 1977
Fox sold 13 acres north of Olympic Boulevard to Ring Brothers. The Studio lot is now 62.7 acres.
November 8, 1977
Star Wars opened to amazing reviews and instantly became a worldwide phenomenon.
November 6, 1981
Marvin Davis acquired TCFFC.
November 10, 1982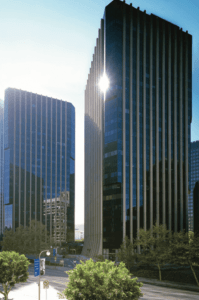 Watt Plaza, 1875 and 1925 Century Park East, was dedicated.
November 6, 1984
Davis transferred Fox Studios' interests in Aspen Skiing, Pebble Beach and Coca-Cola Bottling into partnerships which he controlled.
November 10, 1984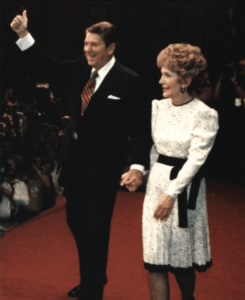 Century Plaza Hotel Tower, later The St. Regis Hotel, opened on December 27, 1984 with President and Mrs. Reagan as the Tower's first official guests.
November 6, 1985
Davis sold his interest in Fox Film to News Corp.
November 6, 1986
FBC commenced operations as the 4th television network. Within a year, FBC had signed 125 affiliated stations across the U.S.
November 6, 1987
Fox Plaza was constructed on the northeast corner of the lot, and served as the location for the first of the Die Hard films.
November 10, 1987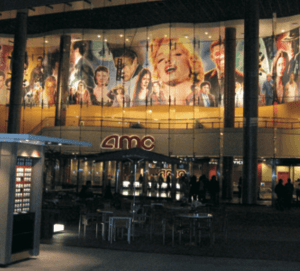 The City of Los Angeles adopted a resolution November 7, 1987 that recognized Century City as a leading center of business, recreation, shopping and residential life at the Bestside Gala at the Century Plaza Hotel Tower.
November 6, 1994
Fox Sports broke onto the broadcast scene with NFL. Subsequently, coverage of the NHL, MLB and NASCAR was added.
November 7, 1994
Fox Searchlight was established as Fox's specialty film arm. Its first big hit was the Full Monty.
November 8, 1994
Fox Animation Studios opened, producing Anastasia, its first full-length feature.
November 6, 1996
Roger Ailes was hired as founding CEO of Fox News Channel.
November 6, 1998
Fox Cable Networks disseminated all Fox products worldwide from Fox Network Operations Center on the studio lot for a variety of cable channels including National Geographic Channel, FX, Speed, Fox Movie Channel, Fuel and Fox Sports.
November 6, 2000
Fox Animation merged with Blue Sky and released Ice Age, creating an iconic franchise.
November 10, 2004
November 17, 2004 St. Regis Hotels & Resorts announce the sale of its Century City property, St. Regis Los Angeles, and its conversion into residential units.
November 10, 2005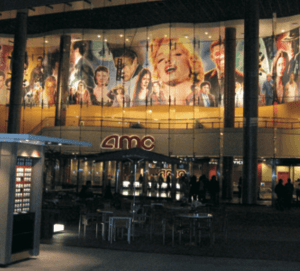 The first stage of the Westfield redevelopment boasted an additional 71,000 square feet of luxury shopping; the first Dining Terrace in the United States; and a new and expanded 15-theater flagship AMC – all setting Westfield Century City as the premier shopping destination in Los Angeles.
November 10, 2007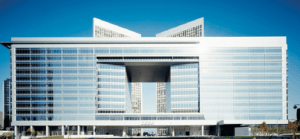 2000 Avenue of the Stars at Century Park debuted on January 18, 2007. Superblock project offers tenants, visitors and guests a comprehensive array of amenities and services including a lushly landscaped, 4-acre park, destination dining, a Promenade of Cafes and a Cultural Pavilion.
November 10, 2007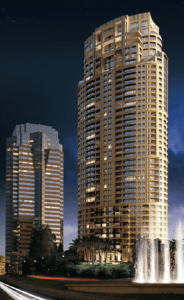 In March 2007, construction began on The Century luxury condominium residences. Designed by Robert A.M. Stern Architects, this 42-story tower is located on nearly 4 acres of landscaped gardens. The Century will offer an exceptional array of services and amenities including an on-site restaurant.
November 10, 2008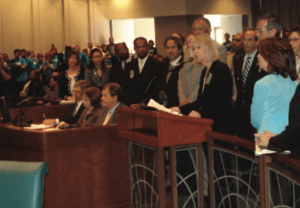 June 26, 2008, at the MTA Board meeting, the Century City Chamber of Commerce supports plans to bring a subway to Century City. The Long Range Transportation Plan was adopted in 2009.
November 10, 2009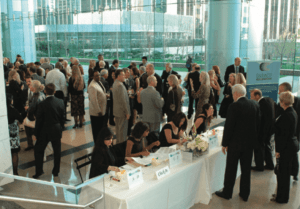 May 14, 2009 Champagne Reception in lobby of 2000 Avenue of the Stars celebrating Century City's 50th Anniversary.
November 10, 2009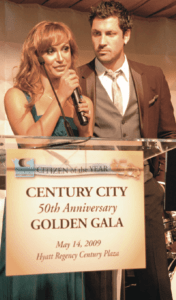 Special Guest Celebrities Karina Smirnoff and Maksim Chmerkovskiy from Dancing with the Stars at Century City's 50th Anniversary "Golden Gala on Avenue of the Stars."
November 10, 2012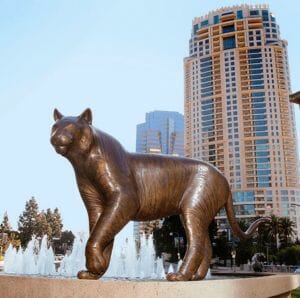 Century City's first public art project debuted with 22 bronze sculptures by artist Gwynn Murrill along the Avenue of the Stars median.
November 10, 2014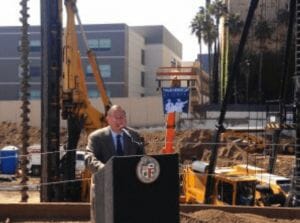 The groundbreaking for the 10000 Santa Monica Boulevard residential building was conducted. The development is set to be the only high-rise and high-end rental project in West Los Angeles.
November 10, 2015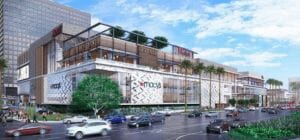 Work begun on the $800-million remodel of the Westfield Century City, which will feature 70 new shops and restaurants once construction wraps up in 2017.
January 1, 2016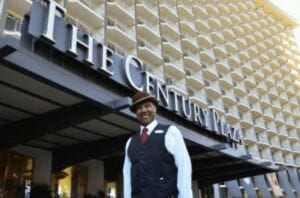 The iconic hotel closed its doors on March 1 to start a $2.5 billion renovation. The reimagined crescent-shaped Century Plaza will open again in 2018 as a luxury hotel and residence, with two 46-story towers behind.
November, 2016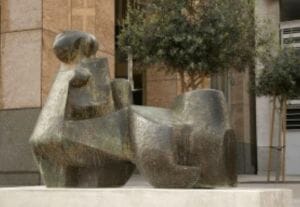 The Arts Council of the Century City Chamber announced the first acquisition of the area's first permanent sculpture in front of SunAmerica Center.
October 3, 2017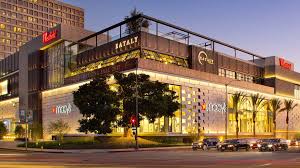 Completed in 2017, Westfield Century City's $1 billion renovation features 260 retailers, including Nordstrom's new three-level flagship store for Los Angeles, a completely remodeled three-level Bloomingdale's, a new two-level Macy's, as well as Eataly's first store on the west coast.